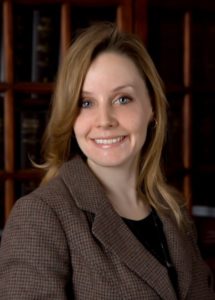 Paige Favio is a life-long Michigan resident who earned her law degree from Wayne State University Law School.  She also graduated with honors from Michigan State University, with a bachelors in political science, and international studies.   Paige served as a law clerk for the Livingston County District Court Judges for five years. That experience gave her an opportunity to learn about the inner workings of the Court System, and the art of litigation.
Currently, Paige sits as the defense counsel on the Livingston County Intensive Treatment Court.  IT Court, run by Judge Carol Sue Reader, is a specialty court created to address Livingston County's mentally ill population that comes into contact with the criminal justice system.   IT Court's philosophy is that an intensive program geared towards monitoring compliance with prescribed medication, mental health treatment and counseling will help those afflicted with mental illness to obtain a more rewarding life, prevent them  from re-offending, and as a result keep them out of our jails.
In addition to her work with the IT Court, Paige also focuses her practice on family law, criminal defense, civil litigation and elder law.