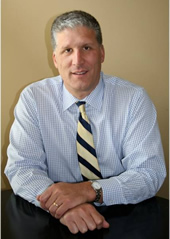 Michael S. Thomas is a 1991 graduate of the Wayne State University Law School and a 1985 graduate of Oakland University where he received honors from the department of Communication Arts.
Over his nearly 30 years in practice, Mike has represented individuals, small businesses, insurance companies and large corporations in a variety of legal matters. In the late-1990s, Mike decided to concentrate on helping individuals with the unique legal issues they and their families face. Since that time, he has devoted his practice to representing individuals in family law, custody, probate and personal injury matters.
Mike regularly represents individuals in divorce and custody matters.  He has tried divorce cases involving nearly all of the issues that come up in those cases- child custody and support, spousal support and property division. While Mike's family law practice is broad, he is often retained to secure custody rights for fathers of children born out of wedlock.
When individuals need representation in will and trust contests, life insurance disputes, contested conservatorship and guardianship matters, as well as other probate related litigation, they often retain Mike.
Over his entire career, Mike has represented parties in personal injury cases.  For more than 25 years, he has focused this aspect of his practice on representing people injured in motor vehicle accidents, dog attacks, construction site accidents, accidents caused by dangerous and defective premises and other injury incidents.
He handles all facets of civil law disputes. Mike tries cases in state and federal courts and regularly represents his clients in arbitration and mediation proceedings.  Since 2002, He has served as a panelist in the Macomb County Circuit Court case evaluation program.
For recreation, Mike loves mountain biking and fly fishing.  He is a lifelong resident of Macomb County.
Member:
State Bar of Michigan
Macomb County Bar Association
Admitted to Practice:
State Courts of Michigan
United States District Court for the Eastern District of Michigan
United States District Court for the Western District of Michigan
United States Court of Appeals for the Sixth Circuit